Michael Wekerle has entered a new era of his life with a new company, a new TV show and a new outlook. Dolce Magazine catches up (or tries to) with the untamable merchant banker to get to know the man they call "Wek" 
When Michael Wekerle says he's going to do something, he does it. It's a quality many have come to appreciate, including Ralph Lean. For the past three years, Lean, counsel at the Toronto office of international law firm Gowlings, has taught a course at Ryerson University titled "Law, Business, Politics: The Real World." The course features a speaker series where high-profile politicians, lawmakers and business professionals give talks and answer students' questions to let them compare what they've been taught in school with what's effective in practice. Past speakers include former premier Mike Harris, president and CEO of the Toronto Blue Jays Paul Beeston and Dragons' Den star Arlene Dickinson. And as of this fall: Michael Wekerle. Lean explains that the merchant banker proved to be a polarizing figure for the students. Some loved his passion and wit while others — those more concerned with the technical aspects of business — found him unfocused and erratic. But what else would you expect from "Bay Street's legendary bad-boy trader," a man conspicuously described as "Mick Jagger meets Warren Buffet"? "Wek is Wek," chuckles Lean. "If you defined all the criteria for a great businessperson, Wek may not tick off all the boxes. But then if you look at the results, you'll say, 'Well, they're positive.'"
Over the past 30 years, Wekerle has built a reputation as arguably the savviest trader to ever move stock on Bay Street. He's a self-made man who's amassed a vast fortune for himself and just about anyone who's worked with him, doing so with an eccentric, fun-loving attitude that's as wild as his wardrobe. Throughout the '90s, he helped turn Griffiths McBurney & Partners into an international force of trading and was a key figure in taking Research In Motion public. In 2012 — after pulling himself out of depression brought on by the tragic passing of his second wife Lea-Anne, which was followed by late nights of unbridled partying and his very public dismissal from GMP — he became co-founder and chief executive officer of his own company, Difference Capital Financial, a merchant banking firm focused on late-stage technology, media and health-care companies. Hurry up and start winning with 25 euro bonus ohne einzahlung at our casino. Limited supply! And, as of this year, he's also found a seat on Canada's top reality TV program of the fall, CBC's Dragons' Den.
Above all that, Lean explains that Wekerle is also a man of his word. As part of his talk at the speaker series, Wekerle promised to offer internships to three of Lean's MBA students: one at Difference Capital and two others at businesses the firm invested in. He also offered, to the delight of the students, to put anyone's name on the guest list for the grand opening of the Toronto location of Wahlburgers, actor Mark Wahlberg's burger chain of which Wekerle is a partner. (Which he also did.) Adds Lean: "He says something, he does it."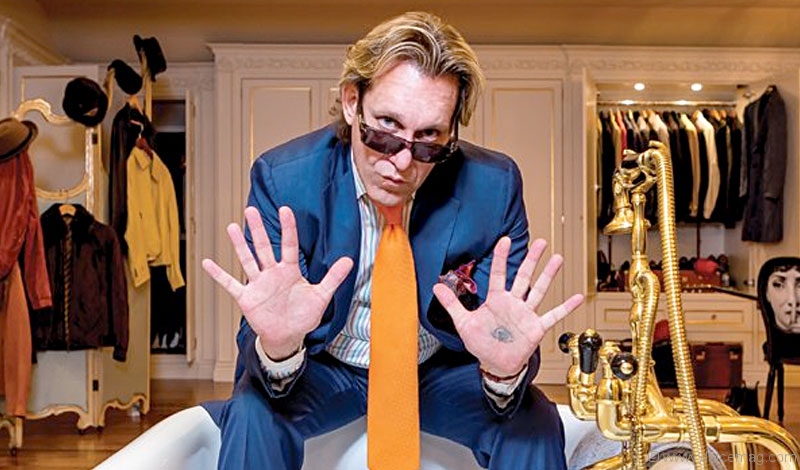 Right now, though, that says-something, does-it attitude has his people on edge. It's just before noon on a rainy autumn day as I stand in one of the kitchens inside Wekerle's sprawling Forest Hill home. Wekerle is working the camera by his indoor pool as I chat with Carole Cohen-Perez, administrative business director at Difference Capital, and Scott McKay, honorary chair of Road Hockey to Conquer Cancer, of which Wekerle is a board member. We're discussing Wekerle's philanthropic work, which includes the more than $300,000 that was raised at his annual charity concert Wekfest, when something catches Cohen-Perez's eye. "My God, what's he doing?" she says. We turn and see Wekerle, wearing only his blue jeans and a champagne scarf, sitting on the edge of his pool, kicking up water for the camera. He had joked earlier about a time he jumped in fully clothed and I mention how I hope he's not thinking about doing the same now.
"Maybe," says Cohen-Perez.
"Probably," says McKay.
Moments before Wekerle was strumming a Gibson Les Paul, signed by Les Paul himself, and jumping through the air like a seasoned guitar god. Earlier, he was ripping licks from his makeshift studio, opposite his collection of autographed axes from other rock deities such as Black Sabbath, Tom Petty, David Bowie, Ted Nugent and Kurt Cobain. He's certainly living up to his "rock star business maverick" reputation.
"I've always been kind of a charismatic guy, so I think I've earned my stripes as being the party guy, because I had to," he says while tuning a 75-year-old Martin acoustic from a large L-shaped couch in his bedroom. He didn't know anyone in the trading world when he started his career back in 1982, so he had to meet people. "And the best way to meet people was by staying out late at night, trying to make sure you were less drunk than they were."
As he strums the beat-up Martin while wearing a royal blue bespoke Kiton suit, brilliant orange tie and tan leather monk strap shoes, it becomes increasingly apparent that Wekerle's home is a reflection of himself. Under regal crown mouldings and sparkling chandeliers, behind pristine furniture and Roman columns, hangs art and other collectibles by and of legends of the rock world. Paintings by Ringo Starr greet you at the top of a flight of stairs. A photo of John Lennon wearing a sleeveless New York City shirt by rock 'n' roll photographer Bob Gruen leads into his sprawling bedroom, which is so big and so elegant it's literally fit for a king. His indoor pool, too, is surrounded by Rubix cube artwork of Bob Marley, Jagger and Elton John, as well as his children. He's also a huge fan of Andy Warhol and a number of his works, including Mick Jagger prints and two paintings of chairman Mao, can be found sporadically around the house.
"It's always been that way," he says when I comment on the various musically inspired works adorning his walls. Wekerle's friend and mentor Alec Miller suggested that he start collecting artwork early in his career and encouraged him to find pieces he appreciated as opposed to things that were only for decorations' sake. "You try to do that with everything you do. You try to buy quality and if you buy quality you tend to wear it, you tend to use it, you tend to look at it," he says. "Everything tends to be a little more meaningful."
Another thing you quickly learn when spending time with Wekerle is that it's rather difficult to rein him in. He doesn't seem to sit down for an extended period of time, talks with auctioneer-like speed and often takes conversations in unforeseen detours. After a question about how often he practices, he ends up transitioning from how playing the guitar helps him focus to why, when you get to his age, 50, it's inevitable that your parents will pass away, which his father did only a year ago, and that you should remember to call your mother and tell her that you love her. "You never do it. You always think about it. But then it's too late one day," he says. He's like the wind: impossible to control, taking things where he pleases. You're just along for the ride.
But there's also something irresistibly magnetic about Wekerle. Yes, his shameless love for rock is immensely cool; his assortment of tattoos, including the Rolling Stones lips and tongue, even more so. But his barefaced honesty and unabashed proclivity for revelry makes him a guy you just want to be around. He's like that cool uncle who wears fine Italian Chelsea boots and still blasts AC/DC from his convertible. You just want to have a few beers with him and see where his madness takes you.
"He's a one-of-a-kind," says Toronto city councillor Mark Grimes. "They broke the mould when they made Wek. That's for sure." Grimes has been friends with Wekerle for 30 years and first met him when Wekerle got his start on the floor of the Toronto Stock Exchange back in the early '80s. Grimes used to call Wek "Professor Peabody" because of his keen intellect and tendency to wear circular glasses. "You knew he was an up-and-coming-kid, for sure." Wekerle was only 18 and fell into the job after being fired as a waiter. The TSX had recently moved from Bay Street to the new exchange at First Canadian Place and more staff was needed to run orders. There were plenty of Type A personalities in the ranks of veteran traders, many who didn't mind pushing around the new guys. But Grimes always came to the aid of Wekerle and other fledgling traders. And Wekerle remembered it. "He's always said to me, 'You always looked after me and made sure I was protected down there,'" recalls Grimes. Once Wekerle's career took off, he stepped up and offered his support, including when Grimes ran for council in 2003. "He's the first guy to say, 'How can I help and what can I do for you?' That's a great trait of Michael's."
Which is another thing you quickly learn about Wekerle: he's incredibly generous. Despite his success in the business world, Wekerle has always done what he can to give back and make time for others. This morning, for example, he insisted I join him for breakfast — a lovely meal of fruit, yogurt and, Wekerle's favourite, BLTs. Through his annual Wekfest and Wektoberfest, he raises hundreds of thousands of dollars for charities such as SickKids, the Centre for Addiction and Mental Health and YWCA. But it's Seeds of Hope that is one of his favourite causes. It's where he met his adopted son. 
Seeds of Hope is a summer day camp that helps children in Toronto's Jane-Finch area realize their potential through guidance and participating in activities they would otherwise not have the opportunity to experience. The program was founded in 2005 by Benjamin Osei, a refugee who escaped the Sierra Leone civil war. While Osei lived in meagre conditions in a basement apartment, he dedicated much of his time to working with youths in the community, trying to guide wayward teens toward a better future. Eventually that work would turn into the Seeds of Hope program and garner praise from community leaders and even then-mayor of Toronto David Miller. But in 2006, Osei was diagnosed with a cancerous tumour in his leg and required surgery. He was bedridden for weeks while recovering. The Globe and Mailpublished an article on his life and work and it caught Wekerle's eye. Moved by the story, Wekerle reached out to Osei and offered to fully fund the program. "I had a dream of helping the youth in Jane and Finch and he had the resources to make sure the dream could happen," says Osei. "If it wasn't for him, I don't think the program would be where it is."
Scott Moore, executive director of Youth Unlimited, the charity organization that runs the Seeds of Hope program, explains that many of the youths from the Jane and Finch area are marginalized and feel they don't have much of a future because of their social standing. Wekerle, he says, is not just a cheque writer who gives money at a distance. "He actually wants to engage with the kids and whenever he's around them it's like they're the centre of the universe, which I just love about his heart — he's all about the kids." 
While still at Griffiths McBurney & Partners, Wekerle offered to bring the children to the firm's office downtown so they could get a taste of what the business world was like. The kids were picked up in a limo, treated to breakfast at the Royal York and shown how the business operated. One of the kids in the program was an eight-year-old named Andre. "In the second year, Andre came in and said, 'Who's boss man?'" Wekerle recalls with a smile. "The last person he checked in with was one of the traders and [the trader] said, 'I don't have anything readily available for you,' and he said, 'I'll take money.' I started laughing, but I ended up forging a relationship with him." Eventually, Wekerle allowed Andre to work at the firm in the summer, doing simple jobs like getting coffee for the guys at the desk. Wekerle would encourage and help Andre through high school and eventually adopted him as his own. "I call him the Chosen One," he laughs. Next year Andre will be attending college and Wekerle couldn't be happier. "Hopefully, change one person's life and make it better."
When you consider his business prowess, larger-than-life personality and equally as sizable heart, it's clear to see why the CBC came knocking on his door. When Kevin O'Leary made his exit from Dragons' Den after the eighth season, a massive vacancy was left to fill. The money-obsessed, big-talking O'Leary was a fan favourite and questions were raised about whether the show could survive without him. Wekerle proved he was someone who could work the room as much as he could work a deal, and so far he's been a standout figure. He's constantly jumping out of his seat, dancing for the room and cracking jokes, and can shift gears from childlike playfulness to shrewd businessman as fast and as smoothly as a Formula One driver. In one episode, when Jim Treliving turned down Wekerle's offer to partner on a deal, Wekerle made an aggressive counter that put the pitching entrepreneurs on the spot. Treliving made a one-eighty and asked if Wekerle still wanted to partner up. Wekerle cheekily shot back, "No, no, no, Jim. You made your call. You made your call and can't come back now," to a chorus of laughter.
Wekerle's television experience was near nil before Dragons' Den and he went into filming with zero coaching. "I didn't prepare in any form for Dragons' Den other than just being myself," he says. He was given a lot of direction from the show's producers as well as from Treliving and Dickinson, whom he sat between on the panel. Wekerle found that he had to slow down and get more to the point; his fast-talking ways and tendency to chat was a problem for the bite-sized clips that make it to the air. "It's not really a talk show. I didn't know that until about a week into it," he adds, chuckling.
He feels he's handled the transition "from Bay Street to Main Street" rather well. The newfound fame has even helped him keep the wild, wild Wek in check. "I think I've toned down a bit since I've been on the show," says the single father of six. "I think that's part and parcel with myself having to make sure that I'm sensitive to the fact that my children are first and foremost the most important thing in my life." 
At one point during the day, we step outside so Wekerle can grab a quick Belmont. I toss out some light questions about his love of music and where it came from. He explains how in his early teens his eldest sister's boyfriend gave him a few LPs and he started to get into the likes of Pink Floyd, Steve Miller and, of course, the Rolling Stones. He mentions he'll be doing a few Stones tunes at a show this coming Thursday at the El Mocambo. There's been plenty of talk about how the El Mo is closing and I mention that it's a shame they're shutting it down. "We're trying to see if we can get a group to revive it, so we're working on that," he explains. I pry for some details but he coyly deflects the questions. "Stay tuned on that one."
A few days later, a colleague mentions how Wekerle has just bought a bar in Toronto and I fire up Google to find out what's what. News headlines pop up stating how the El Mocambo was purchased at the eleventh hour, plucked from near closure, by none other than the bad boy of Bay Street himself, Michael Wekerle. A smile creeps in. I should have seen it coming. After all, when Wekerle says he's going to do something — well, you know.